Action 5 - Testing in the field
Action Responsible
Action description
Action 5 represents the experimental phase of the project, based on the sampling in the field of new and pre-existing parameters and indicators at different level/scales of investigation.
Objectives
The overall objective is to assess the state and trend of European ecosystems for a set of commonly established parameters collected in different ecosystem types.
The objective will be met through a number of steps including:
Site selection (together with Action 1).
Selection of parameters, methods and indicators (together with Action 2).
Collection of parameters to be measured in a sub-set of test sites in 2011 and in whole EnvEurope set of sites in 2012
Collection and harmonization of datasets measured in 2012 campaign in EnvEurope sites
The results of A5 campaign will provide feedback to A1 (new data), A2 (parameters and method consistency), A3 (new data and spatial elaboration, 2011 data for projects, implementation of A3 projects in 2012) and A4 (test of the network design).
As stated in the Action Plan, third parties (external assistance) have been involved, particularly for A5 implementation in sites that are not under the coordination of EnvEurope ABs, but also for contribution to A2 and A3.
Activities and results
Year 2011
A5 activity started with a technical meeting held in Rome in June 2011. Over the course of year 2011 the plan for year 2012 field activity, including the selected parameters, was finalised. Test cases on 2011 sampling were presented during A5 technical meeting in Bucharest in November 2011. In some cases, specific sampling and experiments have been performed:
cruise performed in the Adriatic sea in Italy
sampling and analysis of foliar nutrients at forest sites in Italy
acquisition of deposition data for Hungarian site
A total of 37 sites collected data in 2011, with nearly 110 parameters surveyed, many of them common among sites. Some of those parameters entail data collection along the year or in different seasons, so the number of collected data has greatly exceeded the number of parameters.
Year 2012
The set of parameters and important accompanying ancillary/supporting variables, to be measured in 2012, has been divided into two levels of detail:
Level 1, including at least one parameter/indicator for each of the ecological integrity element defined in Action 2 which represent the minimum common base for the campaign
Level 2, with the aim of deepening the analysis in as many sites as possible.
For complex, large sites where different ecodomains are present, an assessment of landscape scale basic indicators will be accompanied with measurements in at least one of the habitats included in the site.
In 2012, 40 of the participating sites are under direct management of ABs, while 21 are sites contributing under external assistance contracts. Ecodomains are represented as follows:
terrestrial: 39
marine: 7
freshwater-lake: 14
freshwater-river: 1
18 of the 61 sites are labeled as "complex".
The number of measured parameters for year 2012 is:
level 1:
terrestrial: 422
marine: 59
freshwater-lake: 148
freshwater-river: 11
level 2:
terrestrial: 279
marine: 41
freshwater-lake: 46
freshwater-river: 2
As in the case of 2011 campaign, some of those parameters are common among systems and sites and entail data collection along the year or in different season, so the number of collected data greatly exceeds the number of surveyed parameters.
An SQLite database has been realized to track parameters/indicators sampled in the EnvEurope sites. The database enables to quickly identify and correct inconsistencies in the dataset by ensuring its referential integrity.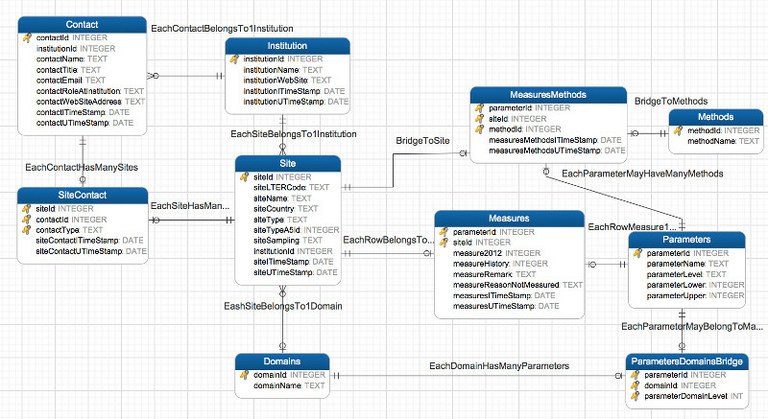 The parameters measured, ordered by number of sites were parameter is measured, are:
Annual mean temperature and precipitation (snow where relevant) 38
Monthly precipitation and mean temperature (min, max mean temperature) 37
Other main meteorological variables 36
Vascular plant species list 29
Vascular plant abundance 28
Vascular plant coverage 27
Cover of CORINE/EUNIS land uses and habitats 27
Management (presence, absence, quantitative data) 27
Presence and type of natural disturbances 26
Atmospheric deposition of main nutrients/pollutants 25
Soil water content 24
Global radiation reaching the site 23
Chemistry of precipitation and snow 23
Net radiation 22
Physical/chemical characteristics: temperature 21
Physical/chemical characteristics: oxygen 20
Main soil features 19
Physical/chemical characteristics: pH 19
Soil C/N 18
Health status of ecosystem (e.g. crown transparency, defoliation, more complex assessment) 18
Aboveground Net Primary Production 18
Litterfall (aboveground) 18
Soil type 17
Within habitat diversity 16
Aboveground biomass by indirect methods 16
Number, type and coverage of layers (vertical, horizontal) 15
Primary producers diversity: phytoplankton (list, abundance, groups) 14
Secondary producers: zooplankton 14
Basic climate at the site: annual mean temperature 14
Depth of water table 14
Physical/chemical characteristics: conductivity 14
Presence/absence of water table 14
Absorbed radiation 14
Leaf Area Index 13
Species list of fauna 13
History of growth by tree ring widths 12
Deadwood 11
Transparency (Secchi disk) 11
Primary production, biomass of producers 11
Secondary producers: fish 10
Main phenological phases for dominant cover 10
Phenology of dominant cover at the site 10
Basic climate at the site: additional climatic variables (add if necessary) 10
Basic climate at the site: annual precipitation 10
Physical/chemical characteristics: nutrients (N, P) 10
Chlorophyll a (connected to biomass in lakes) 10
Direct measurements of aboveground biomass (sampling) 10
Biomass of consumers 10
Presence and list of faunal species under Habitat and Birds directive 9
Basic climate at the site: monthly temperature and precipitation 9
Physical/chemical characteristics: salinity 9
Susceptibility of the site to drought (qualitative/quantitative) 8
Net Primary Production 8
Physical/chemical characteristics: transparency (Secchi disk) 7
Chlorophyll a (connected to biomass of phytoplankton) 7
Secondary producers: zoobenthos 6
Radiation 6
Macrophytes (structural measurements, presence/absence, cover) 5
Basic climate at the site: monthly mean temperatures 5
Total irradiance 5
Input of major macronutrients (N, P, Si) 5
Physical/chemical characteristics: light quantity-quality (euphotic depth) 4
Sediment characterisation 3
Primary producers diversity: microphytobenthos (list, abundance, groups) 2
Primary producers diversity: macrophytes (list, abundance) 2
Secondary producers: macroinvertebrates 2
Main nutrients in rivers (N, P) 2
Primary producers diversity: macrophytes 1
Primary producers diversity: phytobenthos (list, abundance) 1
Macrophytes – seagrasses (structural measurements, presence/absence, cover) 1
Microhabitat diversity, coverage of microhabitats 1
Main hydrological parameters: turbidity 1
Main hydrological parameters: gauge level 1
Accumulation rate in sediments 1
Carbon flux rate to sediments 1
The database has been the data source for the web application that quickly shows which parameters is measured and in which sites. Furthermore, the application is also intended to be used by project partners to check their data submission to A5.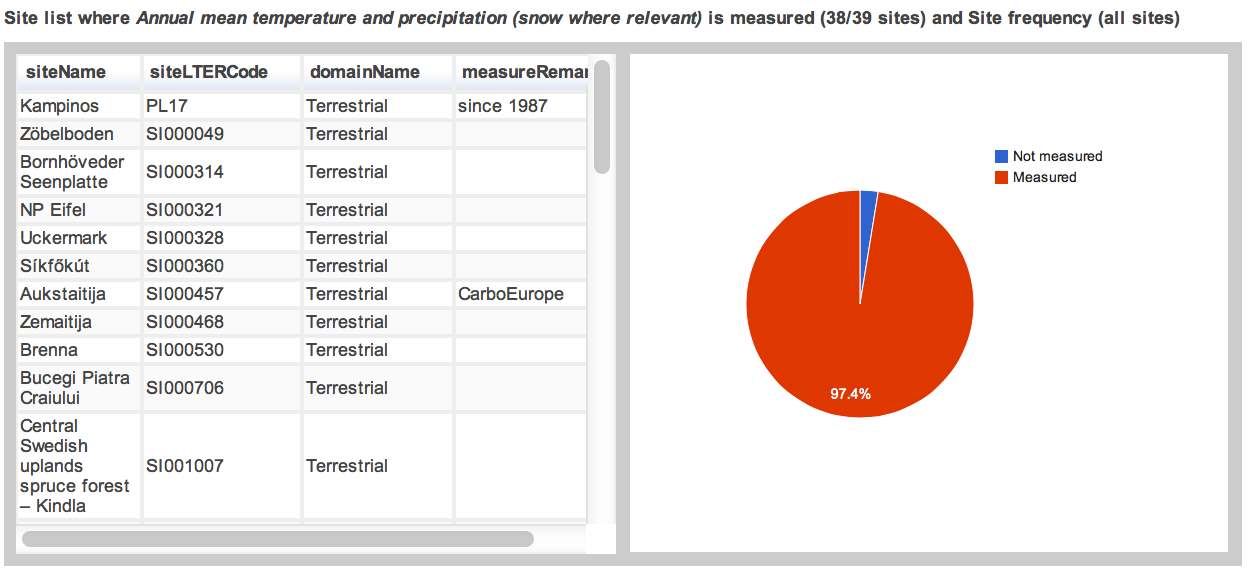 Future planning
During next months (end 2012 and beginning of 2013), actual datasets of measured parameters will be submitted by site responsibles to A5, using the tools developed in A1, including metadata. A5 will be harmonizing data. Analysis of data will be performed together with A3. A technical workshop will be held in April 2013 in order to perform a brainstorming and work together on collected data.
Document Actions